Specialty Product Focus: Cassava Flour, a story of traceability & transparency
Finding certified "Free From wheat" flour alternatives has been one of the food industries greatest challenges. Cassava flour comes from the ground cassava root. The root is dried and finely ground to produce gluten-free flour of fine texture. Put briefly it's an allergy-friendly starch that's taking over the gluten-free and grain-free diets.
Here's the story behind how Santé has secured the world's largest and most sustainable supply of cassava flour.
As Cassava flour gained momentum in the global marketplace, and our client's requested larger volumes, we quickly realized that we needed a much more substantial and reliable supply source from our farms. Our internal product research and development team quickly identified the top growing regions, ensuring that we had access to a fully certified organic product and 100% traceable supply chain.
The journey took us searching across Asia, Africa and many parts of South America. It's not just the traceability we take into account, the quality of the root, the humidity of the region, starch content and the sustainability of supply amongst other specifications led to what would seem a simple project becoming very complex! Throughout Brazil and Sri Lanka, we found sources for conventional Cassava, conducting various trials and tests along the way.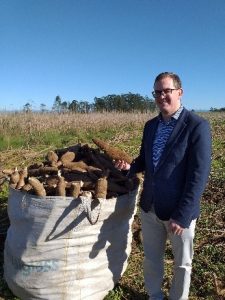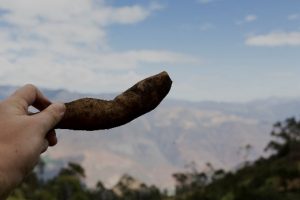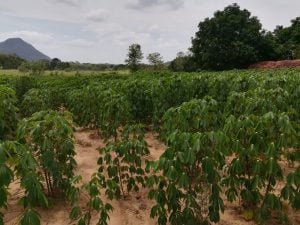 Quality Control on the fields, throughout harvesting and milling
Our Quality Control team thoroughly check the environment, field preparation, soil quality, pest and disease management, and irrigation systems to ensure we're providing the finest quality organic Cassava root.
Once we'd fully validated the product quality at the farm gate, our team were present during harvesting season, to ensure ethical labour standards were being upheld, and that the product was transported immediately to the mills to preserve the Cassava.
The produce is milled with utmost care and dedication at leading-edge mills. The current capacity is over 480mt per month of finished flour depending on the mesh size (and other factors). The product is received, washed, then filtered for any impurities before being peeled and then ground milled. The mill, like all processing plants used, is a pre-audited plant and pre-approved by Santé with strict QA procedures and policies which ensure the quality of the product.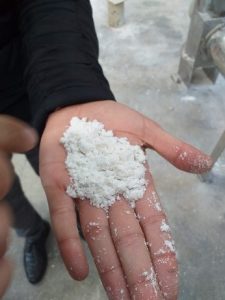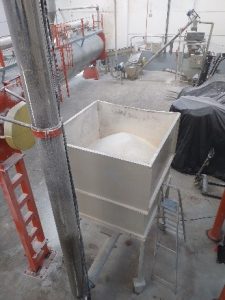 Quality Control during packaging and shipping
Cassava flour is available in 25kg sacks, or 1000kg totes, as well as retail packs of all sizes. For conventional product, our containers are lined with corrugated cardboard to protect the food items during transit.
To ensure our products are shipped as agreed, we don't take anything for granted. Each shipment is carefully inspected at time of loading, and samples are sent to a reputable third-party laboratory for batch specific COA's. We are transparent with our quality controls sharing images of the inspection and loading procedures with our customers, as well as weekly tracking updates.
A key step in the process is loading, steps taken to ensure absolute quality and traceability include:
Third-party certified company inspection of the load.
Sampling by a third-party company and register of different samples each with batch numbers and seals.
Complete certificate of analysis completed.
Complete loading photos and live loading updates for the customer.
Further to this, we test all our samples in worldwide accredited labs in the country of destination and origin. The Cassava flour does not leave port until the labs have verified and approved the product.
As project managers, we closely monitor the processing of Cassava from harvesting at the farm, right to consumers purchasing the product. Cost control, logistics, quality, social and ethical responsibility are what we specialise in, and that's how we're able to provide our clients with a seamless, food supply chain guarantee.
Get in touch with our team to discuss how we can best support you and your clients.
BACK TO ARTICLES