How to mitigate risk and avoid fraud in the PPE market
The current situation: 
In this day and age, the importance of PPE has become paramount in our everyday lives, right down to a simple trip to the bank, the shops, or a ride on public transport.
In early August it was mandated for everyone in the state of Victoria to wear a face covering whenever they left home, unless a specific exemption applied. New South Wales in turn has been issued a strong recommendation to consider wearing a face mask in situations where physical distancing is not possible. The need for quality PPE is all the more essential for our front line health workers to whom we are all indebted to. It is very concerning that healthcare workers felt obliged to escalate their concerns about inadequate equipment by signing a petition, calling on an upgrade of national mask guidelines.
According to a nine-page report released by the Victorian government, of the 2,692 healthcare workers who have contracted COVID-19, 70-80% of them caught it at work, a frightening statistic. Authoritative bodies (i.e. Safe Work Australia) have mandated the need for employers and small businesses to consult with their workers about control measures and procedures to measure and mitigate the risks of COVID-19, including PPE requirements, and providing the required PPE should that be the conclusion of the consultation.
What does the future look like?
This all serves to demonstrate that in the evolving situation we have come to describe as COVID-19, and emerging through into what we describe as the "post-COVID world", there will not be a deregulation of the new health and safety guidelines and expectations, but rather the development of more definitive and detailed requirements, and a widespread usage of personal protection and other UP (universal precautions), to a level the world has not seen before. Employers across the globe are legally required to complete internal risk assessments evaluating the need for PPE within the workplace. Health and Safety Executives worldwide are ensuring employers take reasonable steps to protect workers and the general public from the spread of infection. Alongside these legal requirements and a general increased awareness from all individuals, a post-COVID world is likely to see a continuance in use of personal protective equipment as general awareness of both disease and infection has continued to increase throughout the pandemic.
Sourcing and procurement – a new KPI? 
As is the case with a large newly emerging market, the PPE scene is going to be fraught with frauds, rorts, scams, fake product and the like. Regrettably, it does not come as a great surprise that in these challenging times, where there is unparalleled demand for PPE, thousands of counterfeit products are emerging into the market. This very real, current and ongoing risk will not escape the attention of regulation and process, particularly around the role of procurement and sourcing teams. Such personnel will need to be resourceful and adaptive to a new skill set around product assurance and due diligence – ensuring legitimate, safe, certified, validated, and fit-for-purpose product is provided. What this could look like is anybody's guess, whether it be detailed sample submissions, clinical and professional reviews, and documentation analysis – the procurement scene in the PPE industry has changed. There will be a renewed and re-energised focus on due diligence from start to finish. The new key KPI is validation, even over the traditional pillars of price and quantity.
How to avoid fraud in the PPE market
There are a number of key strategies for the minimisation and removal of the risk of fraudulent, faulty, or otherwise not-up-to-standard PPE product. The process tends to be extensive and time consuming to validate suppliers. At Santé, we understand and sympathise with the simple fact that procurement and sourcing teams are busy enough as it is and struggle to reserve the workload time and capacity to address all these points in a timely and thorough manner. This is why Santé provides assurance to our client's procurement teams via a proven methodology we call "Our Six Pillars of Trust". These are outlined below, and offer a coherent step-by-step process whereby you an have confidence you are receiving quality, legitimate and fit-for-purpose products, free from defect and fraud.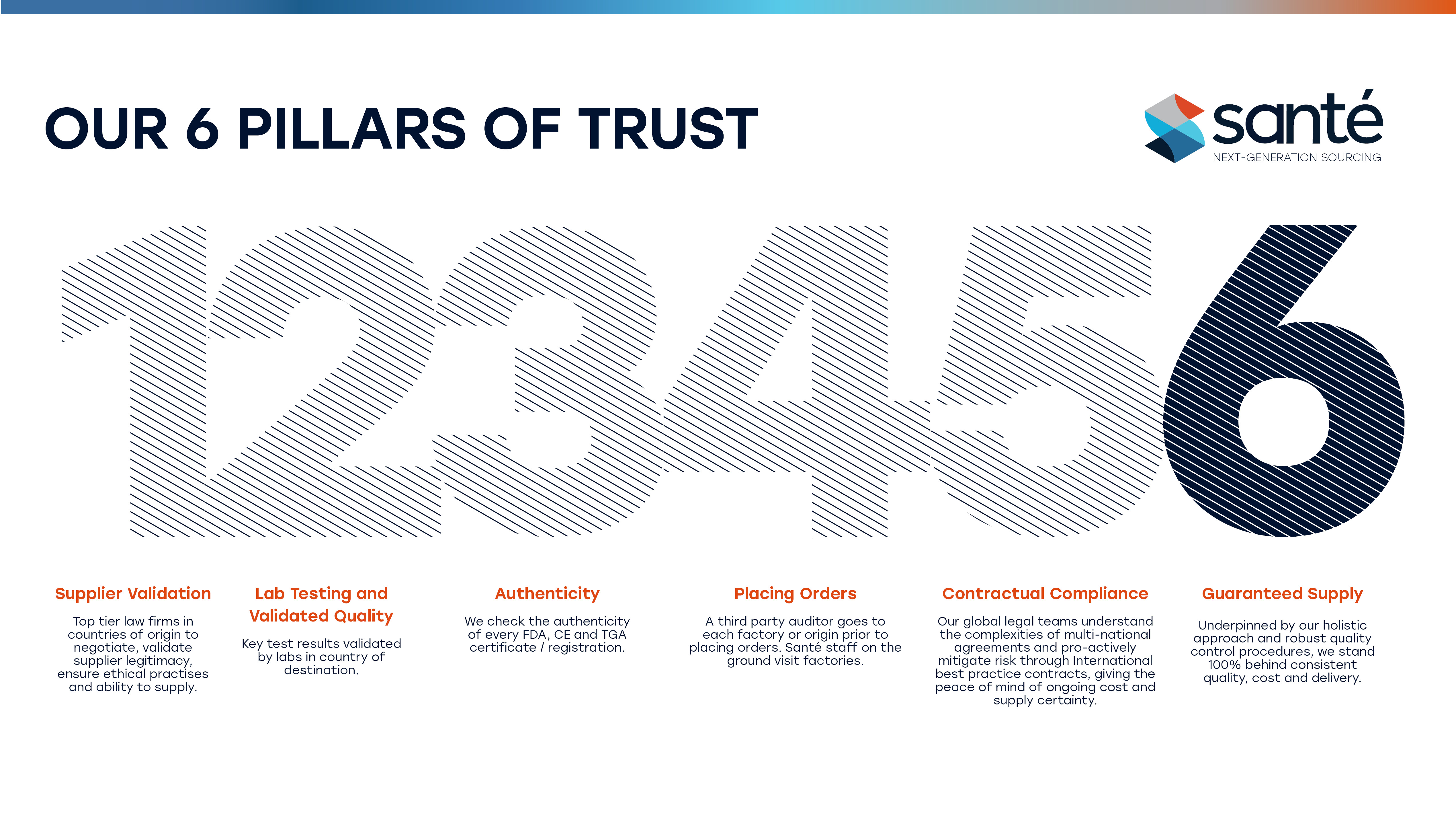 BACK TO ARTICLES